Baahubali – Before The Beginning, a novel trilogy authored by Anand Neelkanthan, published by Westland Books and Graphic India, is a prequel to the Baahubali films.
Built on the vision of S.S.Rajamouli, the three book series depict the early years of Sivagami, tracing her journey to power, and the compelling bond she shares with Kattappa.
The cover of the first book from the series, The Rise Of Sivagami, designed by Viswanath Sundaram.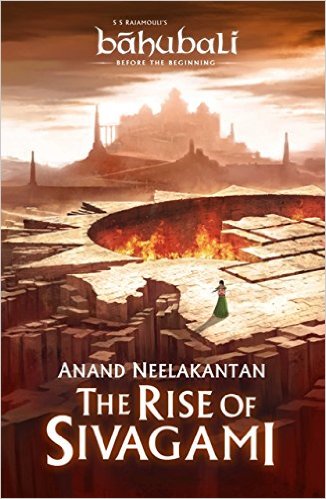 Set in the era when Sivagami was 17 years old, part one of the trilogy – The Rise Of Sivagami reveals her journey from being an orphan to the challenges she faces while growing up and her ultimate rise to power as the Queen of Mahishmati.
Talking about the book, and unveiling the cover at the 10th edition of the Jaipur Literature Festival, Anand Neelkanthan joined S.S. Rajamouli, Prasad Devineni, Rana Daggubati and Gautam Padmanabhan in a panel discussion.
"Anand Neelakantan built the book on the vision of ace director S.S.Rajamouli by telling us the back stories of some of the main protagonists that all of us saw in the movie Baahubali."
Gautam Padmanaban – C.E.O Westland
"Inputs I gave gave Anand Neelakantan were very small. The world he created with it is fantastic."
S.S.Rajamouli – Director of Baahubali
"Post reading part 1 of the trilogy, It was like a cliff hanger ending, I can't wait for the other parts to come out."
S.S.Rajamouli – Director of Baahubali
"I always used to write about villians. This was the first time i was writing about a positive and strong character. So it was difficult."
"Sivagami resembles a lot of strong women from history. She is an epitome of Indian Motherhood."
Anand Neelakantan – Writer of The Rise of Sivagami