What a day it was; truly MAGICAL and MAJESTIC!
The Baahubali 2 Pre-Release Event, was nothing less than a delightful royal ride down memory lane…
Set against the backdrop of the Mahishmati Kingdom, the audience got to experience life in the Baahubali era!

The #Baahubali2PreReleaseEvent started off with a special screening of Baahubali – The Beginning, for the audience.
It was nostalgic recollecting all the special scenes from the first part of the EPIC…The audience screamed all their way for their personal favorite moments, making it really a FANtastic affair!
After the movie was when the actual event began – The whole cast, crew & guests were all set to celebrate the evening in authentic M.M.Keeravaani style!

Before calling upon stage the main crew members, a special AV was played for them. These AV's were made in a lyrical musical style with an element of fun added to it; making everyone go gaga over them!
From moments of laughter to the ones that brought tears – It was enthralling few hours of the event!

The highlight of the night, was the surprising entrance of our Baahubali at the end. He made a dashing entry from the top; leaving the audience awestrucked!!

At the end, the whole team assembled on stage to unveil the SUPER HUGE Baahubali 2 Audio cutout up in the sky, with firecrackers all around!
DANDAAALAYYAA… to everyone for all the love… ??????WRAPPED UP….. Enjoy the music. #Baahubali2PreReleaseEvent pic.twitter.com/d5neCYGU7p

— Baahubali (@BaahubaliMovie) 26 March 2017
Definitely the first of its kind, the whole event was pure joy!
Just in case you missed it, Here's your chance to watch it in 360 degrees…
http://pro.radeon.com/en-us/baahubali-2/
And hey, did we forget something?
Oh yes, our mandatory selfie from the #Baahubali2PreReleaseEvent…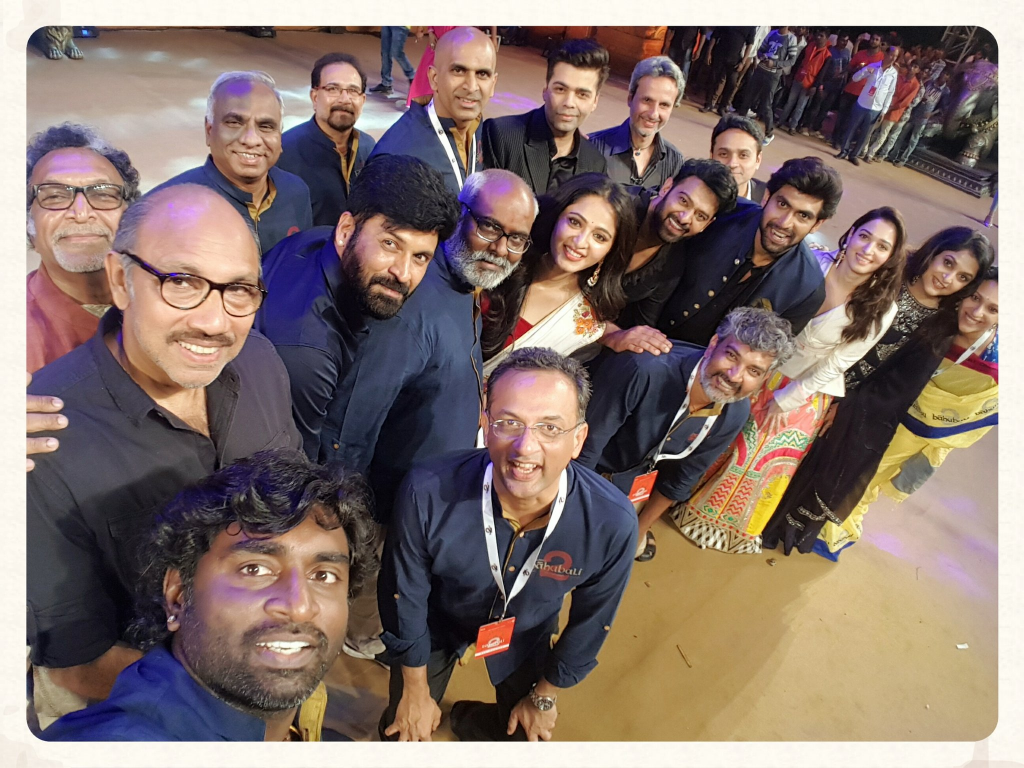 With that, it was a wrap to the #Baahubali2PreReleaseEvent!
THE SONGS ARE NOW OUT!!!